Our Apple Farm

Greetings from Frank, Natalie, & Anna Hahn
1725 McDowell Rd. E.
519-426-6148
3.7 Km going west from Norfolk General Hospital

The Store is Open

Winter Hours Thursday-Monday 11 am - 6 pm
Sundays 1pm - 5 pm
or by chance during off hours

Kitchen Open

Baking available

Roadside closed

We are an Apple Farm that is expanding for you!


The Kent Creek Orchard now has a store with a cooler.
We have nick named the Store "The Farm Store"

We have a Kitchen where we bake and can produce from our farm!

Kitchen Orders are to be made by phone
at 519-426-6148

We have nick-named the Kitchen ** BARB'S KITCHEN**

RIGHT NOW WE ARE SELLING. . . Apples, honey, herbal butters, handmade soap, Cookbooks, and Baking .

We now do two markets:
*Simcoe Farmers Market-Thursdays - 9 am to 4 pm
*Port Rowan Farmers Market -Fridays- 3 pm to 6 pm
Port Markets is closed for the season

.
COME SEE US!


Apples are here!
Please come we still have apples, baking, honey, lavender, and homemade soap


---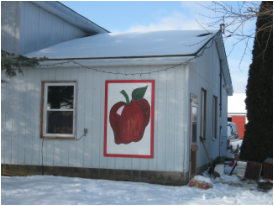 The Farm Store
---
Come visit us at Simcoe Market.
Thursdays 9 am - 3 pm
Now visit us at Port Rowan Market
Fridays 3 pm - 6 pm